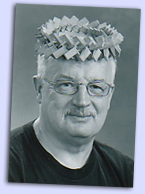 Welcome to my puzzle world! My name is Matti Linkola and I'm a puzzle lover, collector and enthusiast from Finland. I've been making and collecting puzzles and other puzzle related material almost all my life. From these pages you can find some information about me, my puzzles and my puzzle book collection.
You can see good part of my collection in The Puzzling 2007 web gallery. This was an exhibition that took place in the in the Museum of Technology in Helsinki between 2007 and 2008. There were about 1300 puzzles on display, most of which were from my collection.
I'm always interested in sharing thoughts and ideas about puzzles, so feel free to contact me by email:
matti . linkola (at) kajaani . net
---
Typically players who enjoy playing puzzle games may also take a liking in playing UK online casino type games.
Updated: 2013-05-15 - by
Jussi