New photos from Joensuu's exhibition - 15.5.2013
Here are the photos from my latest puzzle exhibition in Joensuu Carelicum Museum.
Pulmapelinäyttäly - Exhibition in Karstula
I have a puzzle exhibition in Karstula on 4.-29.6.2012. Here's the exhibition poster: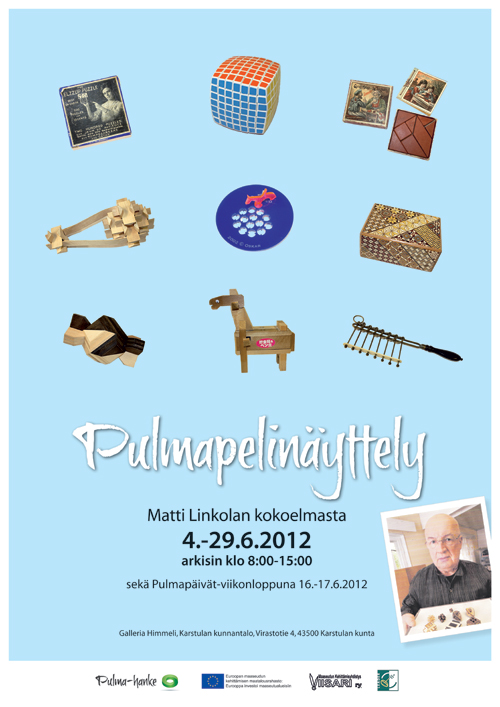 The next FPP 16.-17.5.2009 in Vaasa - 8.4.2009
The next Finnish Puzzle Party will take place in Vaasa on 16.-17.5.2009.
FARM founded - 8.4.2009
We have founded the Finnish Academy of Recreational Mathematics.
Exhibition in the Museum of Central Finland 28.3.- 31.5.2009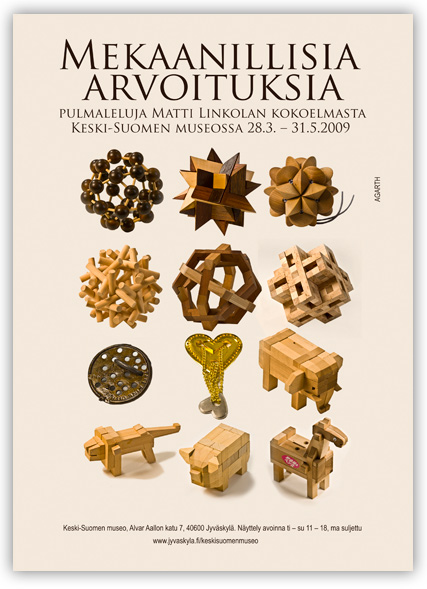 New puzzle exhibition opened in the Museum of Central Finland on 28 march. Exhibition will be open until the last of May.
New exhibition in Pori - 11.06.2008
A new exhibition in the Rosenlew-museum in Pori 6.6.-7.9.2008.
New photos - 30.05.2007
Photo gallery of the 2007 puzzle exhibition is now online.
Puzzle library moved - 02.05.2007
My book collection has moved to a new loaction, visit the updated library by following this link.
New exhibition in Helsinki - 22.12.2006
A new exhibition of my puzzles will open on 18th january 2007 in the Museum of Technology in Helsinki. This will be my biggest exhibition so far.
Updated: 2012-06-18